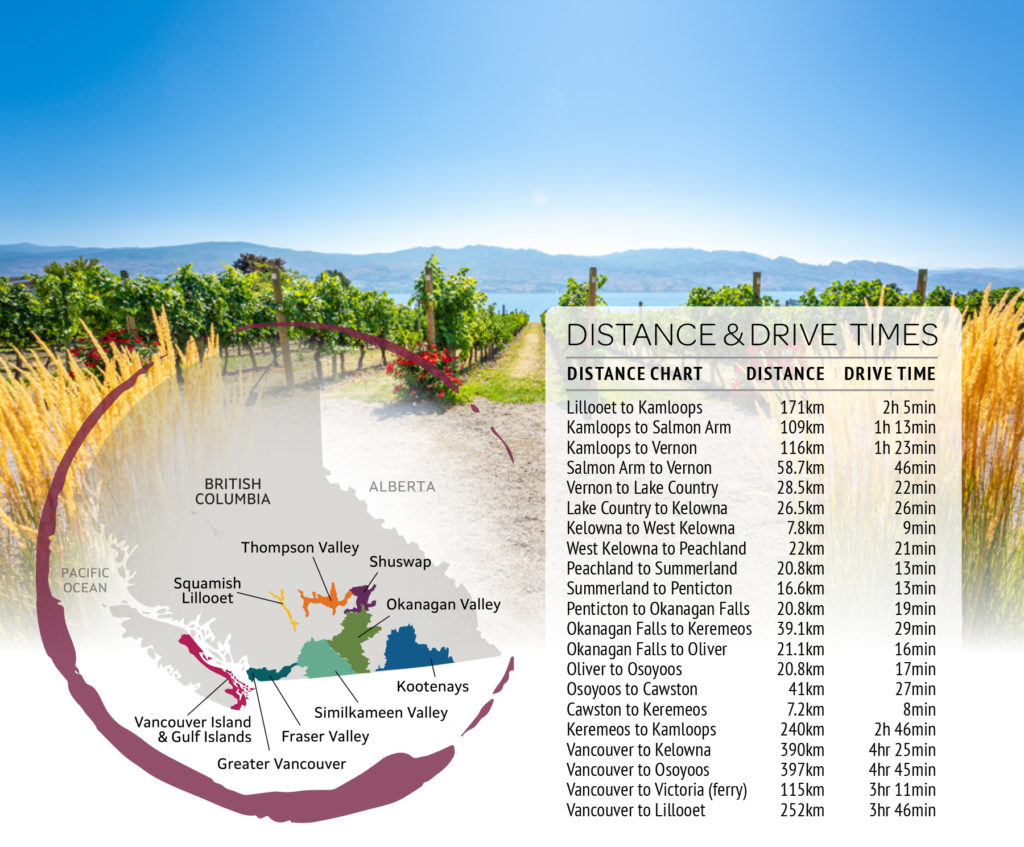 Welcome to BC Wine Country
An article in a November 2021 issue of a major U.S. newspaper encourages wine enthusiasts to bypass the Napa Valley and visit BC wine country instead.
The Washington Post describes Canada's western wine region as laid-back, diverse, easy to navigate and more economical.
Unlike Napa, few of the wineries export their wines, as 90 per cent of British Columbia wine is sold within the province. So if you want to drink them, "you'll probably have to go there," the article says. "And the experience and personal touch make it worth the trip."
As a relatively younger wine destination, BC still offers a "wallet-friendly experience," the article adds.
"Tasting fees are typically less than $10 (compared with $58 in Napa, both in U.S. dollars) and are often, though not always waived with a purchase of a bottle."
The article goes on to say the terrain is surprisingly diverse and that it's easy to hit up multiple wineries in a day by following a wine trail.  This guide aims to help enthusiasts do just that.
The words penned in the Washington Post are sure to be encouraging to BC producers who are ramping up for the full return of tourists after the start of the pandemic. If there's anything the last two years have taught them it's resiliency. But that's something they've already had in spades.
Vintners have been making wines in British Columbia for well over a century, but the industry only really got established three decades ago, so yes, it's fairly young.
In 1990, pioneering vintners and grape growers collaborated to forge the Vintners' Quality Alliance (VQA) and the British Columbia Wine Institute (BCWI). The VQA standard was created to guarantee consumers were drinking wine made from 100 per cent BC grapes. Prior to that, consumers had no real way of verifying the authenticity of what was in their glass. It went a long way toward establishing truth in labeling and building consumer confidence in provincially-made wines.
VQA was not without its controversy and there was resistance by some producers, but there is little doubt the movement helped propel the industry forward.
At the time that VQA was introduced, there were only 19 grape wineries in the province. Today, there are around 300, as well as dozens of others making wine using alternative fruits and even honey. You can't argue with those numbers.
There's a lot to love about BC wines today. 
One of the of the driving forces behind the industry's continued growth is the designation of more "geographical indications (GIs)" and sub-GIs, which recognize the unique terroir of specific wine growing areas in BC.
Currently, there are nine GIs (Fraser Valley, Gulf Islands, Kootenays, Lillooet, Okanagan Valley, Shuswap, Similkameen Valley, Thompson Valley and Vancouver Island). There are five sub-GIs within the Okanagan Valley (Golden Miles Slopes, Golden Mile Bench, Okanagan Falls, Naramata Bench and Skaha Bench), and one sub-GI of Vancouver Island (Cowichan Valley).
These are recognized as appellation areas that help people identify where the wines are from, and provide assurance as to their origin. GIs would be comparable to Italy's DOCG or France's AOC appellation programs. These encourage quality and promote agri-tourism.
Under BC's Wines of Marked Quality Regulation, any wine bearing the VQA symbol must contain grapes that were 100 per cent grown within the province. For wines bearing a GI designation, 95 per cent of the grapes must originate from within that area, while five per cent can come from elsewhere in the province.
Many vintners have taken things a step further by producing single vineyard offerings or small lots that have stepped up overall quality and give BC wine enthusiasts a deeper "sense of place." It is not unusual for individual vineyards to have unique soils and topography even within the same sub-GI. 
In January 2022, Forbes magazine published an article describing this very phenomenon in the Okanagan Valley. It points to the region's diverse geology as attributing to great complexity in its wines. Forbes describes the landscape as having been "shaped by complex processes of mountain building, volcanic eruptions, glaciation and erosion."
"The result is a series of ancient soils composed of glacial till and eroded bedrock that are very heterogenous. It's not uncommon for a small 10-acre vineyard to exhibit a half dozen or more different soil types."
by Julianna Hayes
Photo Credit: Wines of British Columbia