Golf BC Wine Country
Wine is fine, but aside from the vine, British Columbia's supernatural terrain will appeal to another kind of buff – the golfer.
Like those who are passionate about wine, golf enthusiasts appreciate quality. And B.C. delivers with amazing vistas, challenging topography and gorgeous landscapes.
While B.C.'s wine country has been referred to the "Napa of the North," B.C.'s golf country could be considered the Palm Springs of Canada. Add to that the amazing ocean, lake and river side locations and you have a golf destination unsurpassed.
There are as many golf courses in the province as there are wineries, so you can combine not one, but two great passions.
People who travel together tend to have eclectic interests. B.C. is an ideal destination for couples, families and groups who appreciate its diversity. While some might be focused on touring and tasting their way through B.C. Wine Country, other members of your party might want to soak in the landscape and climate on a different plane, such as golf.  The multitude of courses offer experiences for all abilities and desires.
More often than not, travellers are looking to get the most out of their limited leisure time by expanding their destination experiences. And vacationers are catching on that if they enjoy both golf and wine, then visiting British Columbia is a great way to get their chip and sip on, 
B.C. is home to more than 300 courses ranging from simple family-friendly par threes to world-class facilities, which are a challenge for even scratch golfers.
Some of the world's top golf architects have lent their expertise to designing courses in the province, including Arnold Palmer, Jack Nicklaus and Les Furber. And you can't beat B.C.'s natural beauty – teeing off with a backdrop of mountains, lakes, ocean or desert landscapes is simply unsurpassed.
Today, you are just as easily to have a view of a vineyard when golfing in the province, which makes it über easy to hit the swing and sip on the same day.
Tour operators have recognized this trend and have begun developing package options that reflect a dual interest. Individual golf courses are also promoting B.C. wine by offering winery tours direct from their facilities.
Depending on the location and your personal desires, you have a number of choices when it comes to planning your golf and wine tour. You may want dedicate certain days to golf and others to wine separately to make the most of each activity. 
But the proximity of many of the region's golf courses to the wineries, particularly in the Okanagan-Similkameen, means you can spend a few hours on the links then roll out on a wine tour on the same day with ease. So if your time in B.C. is limited there is no reason you can't enjoy golf and wine to the max.
If drinking and driving is a concern, tour operators will shuttle you around and many give you the option to build your own packages to tailor to your interests instead of following a set itinerary.
Planning a golf and wine tour is especially versatile when members of your party aren't necessarily interested in both activities. Non-golfers can fill their days full of wine and scenic tours, while the enthusiast can spend time on the links guilt free and vice versa.
With so many options to choose from for your wine and golf vacation, it pays to do a little planning. Here are a few tips:
Select your destination in British Columbia and research the wineries in the area;
When you decide which wineries are a must visit during your trip, research which golf courses are located reasonably close by;
If you prefer using a designated driver, inquire about tour operators in the area and ask about possible wine and golf packages;
When booking your accommodation, inquire if the hotel/motel or resort provides a shuttle service to nearby wineries and/or golf courses;
Inquire about winery tours from the golf courses you call to book tee times;
If you plan a wine and golf tour on the same day, consider bringing a change of clothes, as you may not necessarily want to wear your golf attire to visit wineries;
Make sure you stay well-hydrated;
Golf, Wine and Dine: BC's golf course restaurants are among the best for food and wine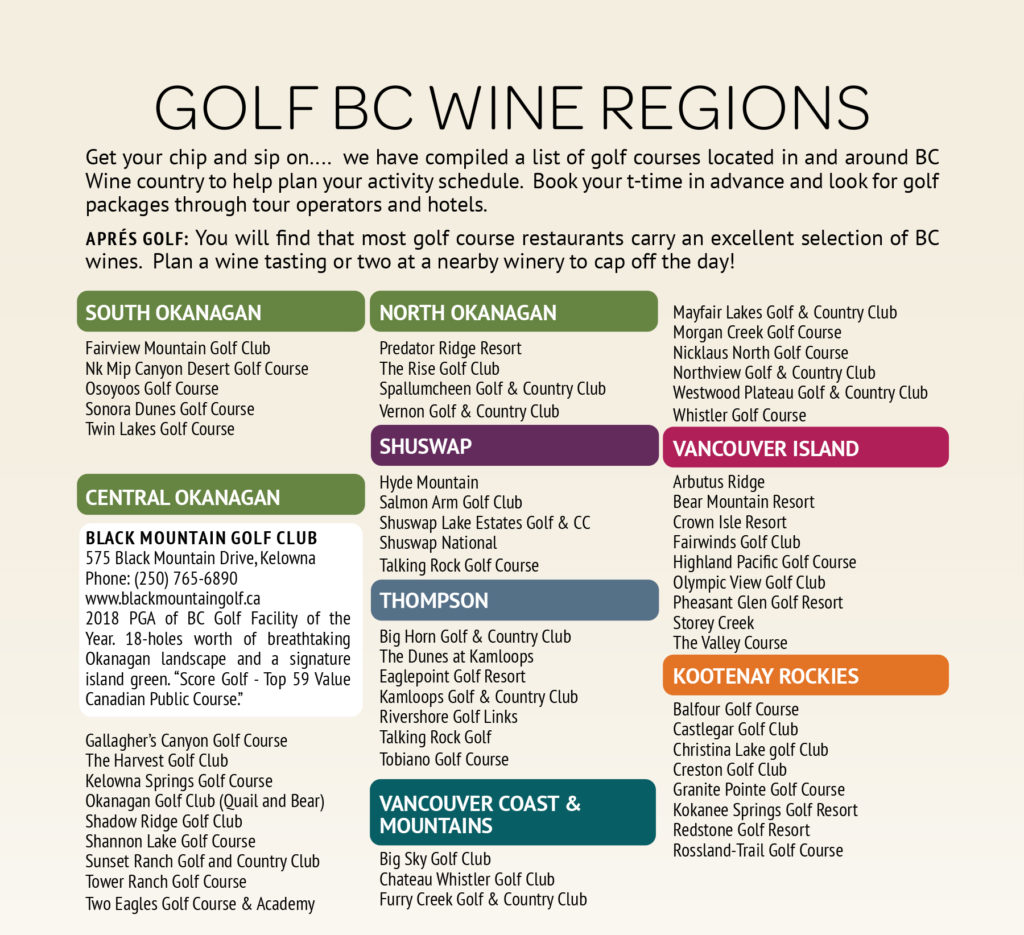 by Julianna Hayes
Photos: Black Mountain Golf Course – Kelowna
Golf
575 Black Mountain Drive, Kelowna, BC, Canada